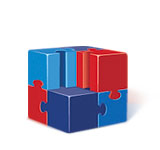 Components! is a robust collection of sophisticated components for JFC/Swing.

Try Components! to see them in action!

Components! is:
Essential for creating up to date, powerful and polished Java GUI application.
Designed for speed and flexibility with advanced features and powerful performance
Obtain comprehensive presentation layer components so you can focus on the implementation
Deliver your application GUI development on time and at less cost.
Designed with developer needs in mind. Over the past several years, millions of developers have embraced Java as their primary or secondary language. Wealth of available Java IDEs. utilization of Java in the development of Server-based, Desktop, Web and Mobile applications is a clear indication that Java is hear to stay. Java's strong support for component-based development created a growing market of developers that have come to rely on the component-based development approach. Utilization of JavaBeans components introduced rapid development of feature reach GUI interfaces and development cost efficiency.
Built-in convenience. All jProductivity components design with the idea of allowing developers to simply drop components on the form and start using it. However, if customization is required, all jProductivity components are highly customizable and extendable.
Customized display options. All aspects of a visual component can be highly customized. From simple background and foreground color manipulation to complete replacement of the component's internal rendering engine with a custom one.
On the fly validation. No mater what data type a component is designed to work with, all jProductivity components validate their data on the fly and therefore protect the developer and end-user from accidental data corruption.
Wide range of applications. Because all jProductivity Components are 100% Java, they can be used in any visual application environment – from web to desktop application.
Currently Components! include the following:
Components!

Calendar
The main purpose of the Calendar component is to present a month (or a set of months) in a user-friendly way as a table of the calendar's days and to allow the user to easily select desired date.

more
Components!

Calculator
The Calculator component is designed to perform any of the standard operations for which a user would normally use a handheld calculator.

more

Try Components!

Buy Components!

Top